Local Citation Services
What Is a Local Citation?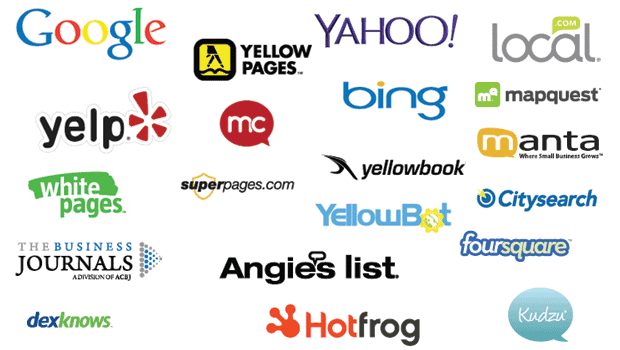 To establish your local business online, you need to get your business listed in the top business directories. With our business listing service, we'll manually create a profile for you on the top business directories online. This is also called "citation building" or "nap citation building." Additionally, you'll get a link from these directories to increase your website rankings!
In this post we'll explain how to perform a citation audit for your local seo strategy. A citation is any reference to a company online. These references often display the business name, address, and phone number, known collectively as the "NAP." Auditing citations ensures the NAP information for a business is present and accurate across the internet.
Why a local citation audit? for local ranking power, citations are kind of a big deal. These little profiles, each containing your name, address and phone number (NAP) have a powerful cumulative effect on your rankings. When they're correct, they can make you the king of the pack. The local pack.
If links are the backbone of organic search engine optimization, then local citations are the backbone of local seo. A local citation is anywhere on the internet where your business name, address, and phone number are listed together. Local citations are a strong indicator to google, bing, and yahoo that your business is located in a specific location, or serves a certain area. NAP listings / local citations are incredibly valuable to local service based businesses.
Since building citations is essentially making your business visible on the local search results, it's very important that your NAP is consistent wherever it appears. If you do it wrong it will take considerable time to fix. If there are inconsistencies, Google won't know what to do with that information but to consider them all different businesses. 
Let me be super clear here, because you really don't want to mess this up. Every place your NAP information is listed MUST be exactly the same. Don't put Main Street in one place and Main St. some place else.
How do local citations affect local search?
The lifeblood of local search, to some degree – citations are critical to your success.
Finding the top citation lists by country or niche is important. Not just any old citation will help. Want to know the best ways to find them or audit them? Or perhaps you need to clean them up? Fix your NAP across the internet?
When it comes to building citations, most local seo's will either build them from a list, starting with aggregator's and move onto more niche local sites , or you can use a submission service to take care of this for you. The pain point with local business citations begins when the business makes a change relating to name, address, phone number, removal of a service that affects their primary category, or modifying opening hours. If you are not using a listing management service you have to log in to each site and update the details. It can be a real pain without a citation building service to help.
Listing your business onto a free local directory is a cost-effective way to bolster your seo and raise awareness for users searching for your service. And it will help, but there are other ways to make an even bigger difference for your company that your competitors cannot do just as easily. Gibson Girls is here to help you get the edge over them.
A local directory is a website that is maintained like an online version of a yellow pages book. A local directory on the Internet will contain a list of businesses that operate in a localized region. Such local directory sites usually have fantastic Page Rank (Upwards of 3+) and also have great Domain Authority (DA) and Page Authority (PA) in Google and other search engines. What this essentially means is that a listing in these directories will mean that your site will receive traffic, backlinks and also a ranking boost, all at the same time.
Bigger companies have their information displayed all over the web. And emerging companies want as much exposure as they can get. When your list of local citations start to become overwhelming, we recommend our services. We have a knowledge management platform that helps manage a company's online presence. We can manage your company's information, monitor and respond to reviews, and integrate with data platforms such as google, amazon, facebook, tripadvisor, etc.
Starting in 2012 with google's venice update, the google algorithm became capable of taking a user's location into account. Search results became less geographically generic and more specific to each individual user's city and state. And with each subsequent update, localized results have been given more and more prominence. From a business perspective, this shift has paved the way for today's emphasis on local search and the ways in which businesses attack seo. In particular, it's ratcheted up the importance of local citations.
Citations can be mentions of your business by name and address or name and phone number – with or without an actual link to your website. A citation is like a vote for your business. It signals legitimacy to search engines, reinforces your brand and geographic location, and can be a source of leads. All things being equal, the more citations you have, the higher you'll rank in local search results.
How can local SEO citations help my business? What are structured and unstructured local business citations good for?
What are citations for local seo , and why does your business need them? citations are mentions of your business information on trusted websites.
Citations come in two varieties, structured and unstructured. Structured citations have the business name, address, and phone (or NAP) as well as category keywords, website, and may also include hours of operation. Structured citations may or may not have a link to your website. Examples of sites with structured citations are yelp, yellowpages. Com, superpages, yahoo local, your local chamber of commerce and factual.
Many factors play into your business' local seo. It is essential to get your name out there and provide the right information for your potential customers. How would you go about doing this? local citations. Improving upon your local citations has not only the ability to increase traffic to your website, but also increases your business' credibility.
Just as it is with reviews, more citations is better as long as they're on high-quality sites. They should also be either relevant to your industry, or relevant to your physical location. If you're in a niche business like plumbing, physical therapy, or electrical work, citations are particularly valuable for your local seo efforts. You need citations to stay visible in the search engine results pages. Since many businesses don't even bother with them, use them to your advantage.
If you're running a small business, especially a small business with a local focus like dentistry, self storage, legal, or accounting services, and have looked into running a search engine optimization (seo) campaign, chances are you've run into the term "citations" or "web citations." Any online marketing firm will mention them because they are the second most important thing, after optimizing your pages. Don't neglect them.
Many of these websites that offer visitors information related to local businesses allow website visitors to filter the information based on state, city, name of the company and business type. In other words, these sites are like business directories, modern-day yellow pages. Local citations are integral to seo marketing and search engine spiders use the information available on these websites to rank businesses for local searches performed by users. As a result these online directories offer valuable seo backlinks and other metrics that impact your rankings.
When google indexes a web page, it becomes aware of that page and the content on it. Businesses need google to be aware of their citations as well so that they can have an impact on seo and help to boost local rankings. If google isn't aware of citations then they won't have an impact on ranking. Gibson Girls offers indexing services to get your citations indexed by Google as well.
Why is it important to keep my citations up to date?
Local citations are simply local business listings on directory websites with your information. When users search the internet for services like yours, it is important to have correct and accurate listings to give your business a competitive advantage. Our local citations plan allows us to update your business information across all websites if it becomes necessary to change something.
Google updates its rankings every few months, though you may start seeing results as quick as a few weeks depending on the last update and how quickly your citations take effect. However, it's important to note that citations are just one subset of local seo strategy. To rank higher, a holistic seo approach must be taken.
Providing accurate, up-to-date, and consistent business information is the most important aspect of building citations. In a study by comscore and neustar, 30% of searchers reported "incorrect business information" as a common issue encountered. In brightlocal's recent expert local citation survey , 90% of local seo experts say accurate citations are critical or very important to local search ranking.
So far, we've gone over how accurate citations can make a big difference to your rankings. The opposite also applies, here, in the event you don't keep up to date. Remember, the major search engines will regularly crawl these sites with the goal of building an accurate picture of your business. So what happens when they find that the names and addresses are all inconsistent? they struggle to understand your business and assume you're not on-the-level, which leads directly to them penalizing them in their serp position. Single-location businesses need to update their citations whenever their important information changes. Locations, names, and contact numbers can go overlooked if you change them, but they are very important to stay on top of.
How can I build local citations for my business?
Take control of your business data online to ensure it is complete, accurate and widely displayed. Our citation service works on  your behalf to submit data to create new listings on websites they are not listed on, and fix incorrect information.
Citations are crucial to your local rankings in google. Not only that, but being listed on lots of these third-party sites (aka "citation sources") can help you attract customers from a wide variety of sources and get reviews
What are the types of citations we build? generic citations go into basic directories such as yelp. These directories are not attached to any business model, niche, or location. They don't care whether you own a business, manage a non-profit organization or oversee a government agency. We use these as foundation citations making sure our clients are listed on the main authority generic sites. Then we branch out from there, looking for locally focused directories or niche specific directories that will benefit your business. The more you have, the better you rank, if they are relevant sites.
Directories like facebook, google+ local, linkedin, yellow pages, yelp can contain a lot of information about a business. Also, they are well-indexed by search engines and are associated with a particular city, country or region. These are by far the most helpful because of the amount of traffic that they carry. It's no secret that facebook is the most used social media application in the world. So having a strong presence there will automatically result in a higher visibility for your business in the search engines. Citation building on these directories will prove to be highly favored by most people because they can attach a lot more information about their businesses.
If you have a local business you want to get into the local "three-pack" that gets so much traffic for local search. (This is the map listing on the front page of Google.) Google determines the most relevant results for local businesses through a number of ways, but one of the ranking factors is the quantity and quality of local citations. In a nutshell, the algorithm does consider the number of local directories that have your business with its address, phone number, and opening hours, as well as the quality of the directories that have your business listed. You do not want to indiscriminately list your business on every single directory that you find. This could just as well result in a penalty to your site in the same way it could result in a boost.
Rather than constantly having to check, update, and create listings and citations, outsource the work to us. We ensure listing accuracy. We also make sure you don't have duplicate listings that can often confuse search crawlers and damage your results. Our local citation services combines all of the accepted industry best practices in an affordable service that we'll tailor to your needs.
How to Get Listed on Google Maps (Google My Business)
Citations are a key foundational factor for local seo. Google's local algorithm looks at your NAP information as a signal of relevancy and proof that you're a legitimate local business and actually located at the address listed in your google my business profile.
As a local business owner, your goal is to dominate all three areas on the first page of google's search results for the top keywords people use to search for products and services in your niche. You may also notice that the local google maps listings usually display anywhere from one to three results (max.), which means that to get your business listed there, your website must be ranked in the top three among your competitors.
Citation building remains an important part of local seo, and building and maintaining an accurate and relevant local set of citations is key. Google will reference directories and local listings sites to find out more about a business. If you have key business information listed accurately and consistently across the web, then you are more likely to be viewed as an authoritative site by google.
Build local citations, boost local rankings!
Citations can be a double-edged sword. If they come from credible sources, they can boost a business' reputation and help improve search engine rankings. On the other hand, if they come from less credible sources, they can have a negative impact on the company's reputation and their search engine rankings. Credible local citations will have a better impact on google and other search engines, which is why it's a good idea to get citations from the right sources.
So where should you be building local citations for your brand? as previously mentioned, there are a ton of websites that act as citation sources. To begin, submit your business listings to a wide range of well-known sources like local directories, data aggregators, review sites, etc.
You can find these by doing a google search for terms such as "your state business listings", also check on the county and city level. Another great way to find impactful citations for your area is to do a google search for the services you offer in your area. As you browse through the first few pages of results, you'll see many citation sources listed. If there are directory websites ranking in the first few pages, then you know google values their listings.